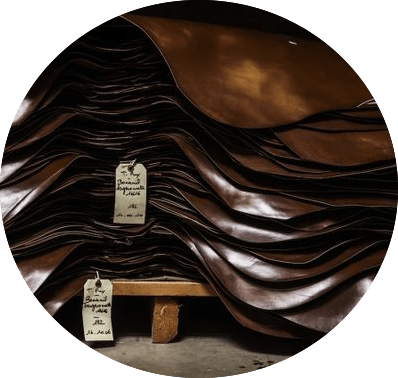 Full grain Aniline: it's high-end, a living, noble material. It has retained its original surface: The flower. It reveals the characteristics of the skin (natural texture and wrinkles). Natural look and feel corresponding to the finest leathers.
Mass-dyed pigmented full grain: This is a leather that retains all of its original grain but it receives a thin protective film in order to keep its natural appearance. It will be immersed in a dye bath which will aim to dye it in depth (mass-tinted). It is still living matter. Excellent compromise between durability, beauty and comfort.
Corrected, pigmented flower: It is no longer a living material. The leather has undergone grain sanding to standardize its surface and remove defects (abrasions, wrinkles, etc.) and it has received pigmented protection to unify its color. It is a leather lacking in naturalness, both in appearance and in feel. Cold contact.
Split leather: we can no longer talk about leather, it is a covering that does not have the resistance or beauty of leather. It is the lower layer of leather separated into two sheets by the "splitting" operation having received a very thick pigmented protection. Its use is not recommended in furniture.
The bycast: it is split leather with a polyurethane coating on it which gives it this shiny side, which reminds us of sheep leather visually, but only visually, because it will not have the marks of life of sheep leather full flower, it will not have the nuances of a beautiful color, it will not patina over time, but it will tear. Its cost must be very low because its lifespan is short. Its use is not recommended in furniture.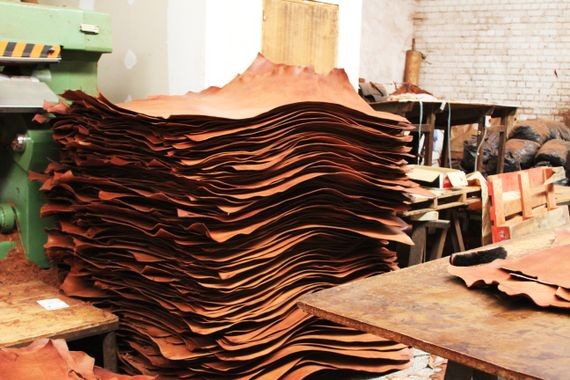 Our full-grain sheepskin leather called "basane"
It is a natural leather that retains its grain. It has a natural look and feel, It is waxed and patinated by hand in the old-fashioned way. The club chair must be entirely covered in leather to be called a club chair. Otherwise we will speak of a simple armchair. It is thanks to this leather that the club has its charm and unique side. The sheepskin leather is placed wet to take the shape of the chair. Then for 2 days the leather dries, then comes the color that was chosen by the customer. the leather of the club chair is then nourished with leather cream and then buffed to heat the wax and make it penetrate the leather. This step must be carried out 1 to 2 times per year by the customer.
The most beautiful leathers are full-grain leathers because they keep their original surface. All other names such as full skin, half flower, wild or others, are only commercial arguments which mean nothing and which mislead the customer.