Fans of the club chair know: relaxation is an art. This high-quality seat with rounded and generous shapes brings together all the criteria to enjoy the present moment. Combined with whiskey and cigars, the club chair seems to have been created for bon vivants who want to enjoy a moment of tranquility. But how can you take advantage of the comfort offered by this exceptional seat? Atelier Gru shares its secrets with you to make the most of this tailor-made art furniture.
The club chair: an invitation to relaxation
The club chair has always been considered a luxury piece of furniture. How did it find its place in history and what is the right way to enjoy it?
The history of the club chair
With its deep, soft seat and high armrests, the club chair has become an institution in London and Parisian Gentlemen's Clubs (that's where it gets its name). These clubs are frequented by high society and the influential men who made it famous.
Subsequently, the club chair became popular in France and found its place in libraries and smoking rooms, places of sociability reserved for men after dinner. After having passed through the ages, this luxurious and refined seat remains a safe bet for people wishing to relax after a long day.
An exceptional seat synonymous with rest
Having become timeless, but able to modernize over the years, the club chair remains imbued with its past in Clubs. In fact, it is still used today, mainly to take a moment to yourself by reading the newspaper, watching television or simply to take a little nap.
The emblem of private rooms offers a real moment of intimacy, as if you were in your bubble. Of course, it is also synonymous with conviviality and allows you to spend pleasant moments with friends by the fire or accompany you during memorable poker games.
But how to relax according to the rules of the art?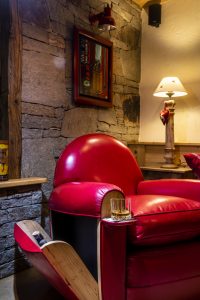 The winning duo for relaxing in your club chair
Discover the best way to enjoy the comfort of the club chair in order to perpetuate the English club spirit. Prepare to enter a luxurious and vintage world of whiskeys and cigars!
What better way to enjoy a good glass of whiskey than while sitting comfortably in your club chair? The pleasure is such that you might even perceive flavors never identified before!
Sitting in a club chair means forgetting the passing of time and savoring these precious moments when your body releases the pressure accumulated during the day. To help you unwind, Atelier Gru recommends the following spirits: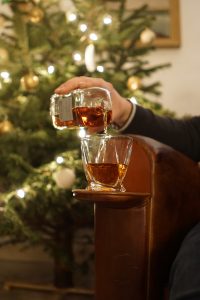 Mavela Estate
Hautefeuille distillery
Ninkasi
Charlier & Sons
Gulf Distillery
To accompany your tasting of a wonderful whiskey, opt for a quality cigar. The whiskey and cigar pairing is certainly very recent, but terribly effective. The specialist in this spirit, Private Whisky Society, recommends bourbon and Irish whiskey, with a light cigar.
For our part, we think that the following cigars go perfectly with our club chairs:
Navarre Cigars;
Montecristo No. 4;
Churchill from Romeo y Julieta;
Cohiba's Lancero;
Partagas Serie D No. 4.

To fully enjoy your club chair, don't hesitate to treat yourself to a little gastronomic pleasure. In addition to cigars and whiskey, fans of this timeless seat are considered bon vivants.
To make the right choice, we recommend the following two websites which are real guides to meat, aperitifs and wine:
A cozy atmosphere and a real handcrafted club chair
After carefully choosing your whiskey and cigar, the centerpiece is obviously missing! This difficult choice should not be made at random. Let us advise you.
Even if the vintage club chair finds its place in different atmospheres (modern, contemporary, classic or vintage), it is frequently associated with private lounges.
This luxury French furniture gives personality to your room, brings an unrivaled touch of elegance and gives style to your interior. Its undeniable comfort, its rounded lines, its curved backrest and its wide armrests can only encourage relaxation.
But nothing beats the comfort, longevity and beauty of an authentic club chair in sheepskin or cowhide leather!
You will find custom-made, handcrafted club chairs.